If you're not currently subscribed to The Tankini Files newsletters but would like to be, click here.
Newsletter #47
October 19th, 2018
What We Ate This Week
We're getting super tactical and are attempting this weekly meal plan by Epicurious. And by "we," I mean "my husband Nat." At first glance, this seems almost as work-heavy as making a new dish every night (because, well, you are) but it's good to have a plan and a grocery list ahead of time. Strategy! I believe that half the anxiety of making dinner every night is not knowing what you are going to make for dinner (but that doesn't stop me from winging it most of the time). We also made this delicious Beef Stew in the Instant Pot (I've always had problems making a stew that actually tasted flavorful and this is our new go-to.) This banana bread (from a mix). If you want to get your autumnal on, try this pumpkin hummus recipe. And here are some Halloween cookies I think I'm competent enough to attempt with the children: Frankenstein rice krispie treats, Oreo cookie spiders, Nutter Butter Boos,  and Monster Eye Cookies.
What I Wrote This Week
I did a listicle! Finally! About my favorite subject: Trader Joe's. Hot mom content!
What We Watched This Week
The Haunting on Hill House on Netflix is spoooky and although, as a rule, I cannot deal with children being terrified on screen (deal breaker), I can handle it — so far. I've also heard good things about Salt Fat Acid Heat but so far haven't dug in.
What I Read This Week
I read this article about a guy who only eats pizza and peanut butter sandwiches and it reminded me that this is why we fight to make our kids eat good, nutritious foods: So they don't end up like this guy. I'm still reading Kate Atkinson's Transcription and after a slow start, I'm getting more into it. Oh! And The Dream podcast, about MLM marketing and I love it — it's very respectful to why women sign up for MLM (gotta make a buck while you're raising your kids somehow) while going into the industry's predatory behaviors.
Parenting Gif of The Week
Peeking in the kid's room to see if they asleep or not: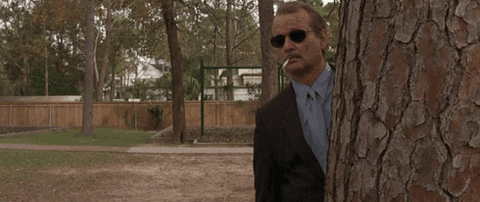 Newsletter #46
October 5th, 2018
What We Ate This Week
We were doing it again: coaxing our almost-3-year-old daughter to eat the food we made her. Our son, 6, will eat whatever we put in front of him as long as he gets dessert. But with Kit, it's an ordeal. And I was frustrated and said to Nat, "Why do we do this? Why are we making this such a thing." And he said, "It's simply rude if they don't eat the food we make as a family." So, anyway, he's fighting that (good) fight. I would have given up years ago. In the meantime, I would really like to make these freezable breakfast burritos as I'm over doing breakfast dishes in the morning. They seem like a dream, no? We also made a broccoli soup in the Instant Pot, Trader Joe's mushroom raviolis (we lied to the kids and told them the mushrooms were meat), slow cooker pork tacos, and a macaroni and hamburger casserole, among other culinary delights!
What We Watched This Week
We finished up Jack Ryan (or, as we like to call it, The Office: Yemen Edition) and now we're being treated to 9-1-1 (I love that schlocky show) and Nat's favorite, The Good Doctor. Also, I'm really digging the podcast Uncover: Escaping NXIVM, about one woman's attempt to escape a "cult" diisguised as a "self help group"  but I'm strangely interested in the cult and think they have a good message — they teach women to overcome their overemotional nature, a failure to keep promises and an embrace of the role of victim — and I'm like I'm IN!  (Except for the branding and sex trafficking, of course.)
What I Read This Week
Kate Atkinson (my favorite) has a new book out which is reason for a huge celebration (or, a little yelp of delight). The New Yorker sums her up best: "Atkinson has predicated her enormously successful career upon giving readers intelligent and artful iterations of what they already know they like: made-up Johns and Janes, in realistically described settings, enacting a plot that's not only ingeniously constructed but, in the end, fully resolved." She's perfect. A master.
Parenting Gif of the Week
Me, getting ready for Halloween!
---
Newsletter #45
September 21st, 2018
Hello friends. It's September. I'm not sure what this means for you, but for me it means shopping for slightly orthopedic, yet slightly stylish "comfort booties / heels." I'm eyeing these Hip Grandma-esque numbers: The Dr. Scholl's Dakota (meow!), Clark's Clarkdale Sona (hubba! hubba!),  and Naturalizer's Whitney pump (you had me at "dual density cushioning on a patented contoured footbed with arch support").
What I Ate This Week
Someone posted a meme to FB the other day that said, "Motherhood: I would die for you. But I really don't want to make you dinner." So true. However, we continue on. As such we've made over the past few weeks: Burritos, meatloaf. roasted vegetables, chicken breasts on the grill, mushroom ragu over polenta (adults only), about 4 watermelons, baked salmon, pasta with mushrooms and (frozen) asparagus, meatballs and pasta, and I've joined the FB group Trader Joe's Enthusiasts and it's really been super life-affirming and exciting for me.
What I Watched This Week
Please watch Affliction on Netflix so we can talk about it. It's super voyaristic, terrible and I can't turn away. Plus, there is loads of Internet talk about it so I can watch it and read about different theories about what I'm watching  at the same time which is my real sweet spot.
What I Read This Week
I read Imagine Me Gone by Adam Haslett and I liked it but can't wholeheartedly recommend it as sometimes I felt like it was a little too extra and felt myself skimming. I'm not sure what is next. I'm very into the Dr. Death podcast which helps make putting the dishes away a little easier to do.
What I Wrote This Week
I haven't written much of anything because I'm feeling overwhelmed so I basically froze and then started a thousand-piece puzzle to make sure really nothing at all got accomplished.
---
Newsletter #44
September 7th, 2018
BACK TO SCHOOOOOL
Hello friends! It's back to school time which I haven't really written about because nothing I produce can top Drew Magery's take on the subject. Do you all do anything special for BTS? I don't. I maybe wash my son's old backpack from last year and make sure he's dressed in cleaner-than-average clothing for the first day (after that, all bets are off). I picked up some Total Sugar Bombs Yogurt Drinks to pack in his lunch for a few days for excitement / showing-my-love-for-him-from-afar purposes. My husband will put a doodle in his lunch box as he's the better parent. Oh! One thing I recommend is the Burbio app which automatically populates your Google Cal or Outlook with the school's calendar.
Does it count if I like reading / watching videos about interesting lunch options for my children, although I never really put them into practice (this is beautiful as is this video)? Please say yes.
What I Read This Week
We're reading Matilda by Roald Dahl with Sam (6) and although it's slightly dark, he loves it. I finished Severance by Ling Ma and liked it (it hits my loves: female protagonist, the apocalypse and NYC book publishing). I'm currently reading Imagine Me Gone and highly recommend. Author Adam Haslett has a lovely way of writing about parenting. To whit: "With children, everything's already happening and then over with. It happens while you're trying to keep up and gone by the time you arrive at a view of things."
What I Watched This Week
Sisters on Netflix is pretty watchable and I'm pretty pumped to start watching Amazon's Jack Ryan, but only because my poor husband needs some testosterone in our nightly TV binge watching (and I need some John Krasinski. Meow).
What I Wrote This Week
A little ditty about the end of summer and how I need to remember to keep the eye on the prize regarding raising my kids.
Parenting GIF of the Week:
Me, walking up to meet a whole new batch of Moms at 1st grade drop off.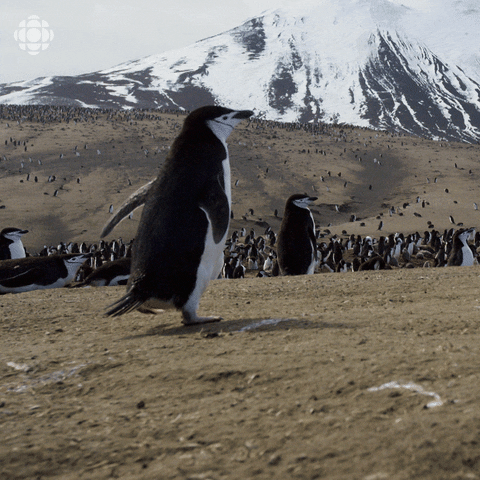 ---
Newsletter #42
August 10th, 2018
What I Made This Week
We just got back from vacation — without the kids. It was magical. We were so giddy yet calm. We were traveling with our friends (also sans kids) and one of them whispered to me during a boozy, casual lunch, "I feel like I'm cheating on my children." I didn't make anyone any food for four, beautiful days.
But now I'm back to the business of being a short-order cook / mother but maybe even more lazy about it due to re-entry. So! We bought some pre-made chicken salad and fancied it up with some chopped Marcona almonds and sliced mango. The children refused to eat it (because they don't like chicken slathered in mayonnaise, apparently). They did help me make Pillsbury Crescent Rolls, which they loved, because they are delicious and unhealthy.
Oh! And a while ago, I wrote about wanting to try to make cold brew at home and all 14 of you who read this newsletter wrote me to say, "Dude. Use a French Press." But! Here's something I've realized about myself: I am very worried I will mess up coffee-making. I will not make it in a new house for fear I will make it incorrectly and have to make another pot and waste all of those valuable morning moments without coffee (egad!). But back to my fascinating story about making cold brew at home: I didn't want to find our French Press but then I found it (miracle) and I made it while Nat was cheering me on: "YOU'RE DOING IT! YOU'RE DOING IT!" And it was so unbelievably easy (and tasty!). Miracle!
What I Wrote This Week
Hello.
I'm writing this to you 3,000 feet in the air while watching The Greatest Showman (Nat: This would be much better if Hugh Jackman suddenly turned into Wolverine mid-routine).
We're going on our first trip away together (sans kids) in six years.
Six. Years.
I'm surprised we're still married.
I say that jokingly because of course we're still married. We're too lazy (yet busy!) to get divorced…. continue reading.
What I Watched This Week
Netflix's latest true crime docuseries The Staircase is very watchable but only in small doses. Does anyone else, when watching something like this, instantly look on their phone for the conclusion? However, I read this during my Googling — The Owl Theory — and now it's a bit more interesting (even though I know how it ends).
What I Read This Week
I downloaded Eileen: A Novel by Ottessa Moshfegh, which won the PEN/Hemingway debut fiction award, and I didn't like it much. It was dark but not savagely dark (if that makes sense?). So,I'm excited to dig into Beth Macy's "Dopesick: Dealers, Doctors, and the Drug Company That Addicted America" which is probably dark dark and not savagely dark but non-fiction so I think I'm in the clear in regards to liking it.
Parenting Gif of the Week
When my husband tries to unload a chore on me I have no interest in:
---
Newsletter #41
July 27th, 2018
Castle Rock on Hulu and possibly feeling excitement over cooking?
What I Made This Week
Before I begin my SUPER-INTERESTING newsletter, I wanted to say how much I like when y'all write me back tips, tricks, recommendations and super-hot life-hacks. For instance, a reader wrote and said I do not have to boil water to make herbal iced-tea for the kids in my (futile) quest to cut down on their juice consumption. You simply put tea-bags in a water pitcher and then put it in the fridge overnight and voila — herbal iced tea. Was this reader some kind of sorceress? Probably. (This made me feel as foolish as when I found out, 20 years after I first started driving, that there's an arrow on your gas gauge that shows what side your gas tank is on.)
I felt a feeling the other day (was it excitement? Do I remember what that feeling is?) as I realized that maybe, in the near future, I would get my act together enough to start cooking WITH my kids instead of FOR my kids. (Hahahahaha. Oh, Dorothy. This will never happen.) For that never time: This recipe (with kid instructions) for an Asian Vegetable Rice Noodle bowl. And just because I can't keep it to myself, here are the meals we made in the past two weeks: Calzone (pizza but in a different shape), scallops (the tofu of the sea), chicken skewers with peanut sauce and green beans, ravioli, egg salad on toast points, and as our new, go-to snack (drum roll PLEASE) air-popped popcorn! Sure, it makes a mess but doesn't fill up the kids before dinner. Need to keep those kids LEAN, you know?
What I Wrote This Week
Summer Camp Madness aka How Much Do I Hate Dress Up Day? Answer: Very Much and also about how I'm tired all the time.  Summer!
What I Watched This Week
I've decided I now hate Sharper Objects on HBO. Plus, we also started The Sinner on Netflix and I can't keep all the dead girl plot-lines straight between the two (they are very similar: Working-class towns, weird moms, dead sisters, and pretty people attempting to look damaged, which they can't pull off, because they are too pretty). Thor: Ragnarok is now on Netflix which I watched one night with Nat, mainly in thanks for him being game for all of my dead girl / feminist / British BBC drama I make him watch (#No1Wife). But it was very funny and good; maybe one of the best movies I've seen in the past 2 years? (Please note: I've watched exactly 5 grown-up movies in the past two years. And yes, I'm counting Moana as an adult film. There's a lot going on with that rooster.) I'm also watching Castle Rock on Hulu right now (from Stephen King and JJ Abrams! Two names that mean a lot!) as I write this newsletter to you and I have zero idea what is going on.
What I Read This Week
I read Providence by Caroline Kepnes because Lena Dunham has been promoting it heavily on her Instagram (forgive me, NYTimes Review of Books) but didn't enjoy it as much as I did Jar of Hearts by Jennifer Hiller, which was creepy and fast-moving and has some parts set in a women's prison, which is always an intriguing setting to me because I'm a scared person.
Parenting Gif of the Week
When my kids won't eat their vegetables but I'm too tired to put up a fight.
---
Newsletter #40
July 13th, 2018
The NY Times is Ruining Breakfast & Snowflake Parenting 
What I Ate This Week
Did you see this article in the Times about how you should never drink juice? (Between this and their cereal article, the Times is really ruining breakfast for ol' Dorothy Robinson.) In light of this, Sam and I boiled some water in the teapot, threw in some herbal mint tea bags, sweetened it with just a little bit of sugar and stuck it in the fridge. Boom! We made kinda juice.
I also — and this is BIG NEWS — used my Instant Pot to make deviled eggs. Friends: IT'S SO EASY. And the eggs were dream to peel. I made 24 deviled eggs in about 20 minutes. This is who I am now. I don't even want to fight it.
What I Wrote This Week
I am in a snack k-hole with my children and also am subscribing to snowflake parenting and I'm cool with it.
What I Watched This Week
Did anyone else catch the premiere of Sharp Objects on HBO? I used to drink a lot when I was a journalist but nothing like how Amy Adams is pounding down the mini bottles of vodka in the first episode (the mom economist in me keeps yelling at the screen, "Just get a big bottle of vodka! It's more economical and better for the environment!") She also takes a bath at a downtrodden roadside motel and I got seriously skeeved out because who takes a bath a gross motel? I never take a bath in my own bathtub and I know whose dead skin I'm washing in! (And thus ends my review of the first episode of Sharp Objects. For a more thorough review — like what it's really about — click here.)
What I Read This Week
I enjoyed Lydia Millet's Fight No More which is comprised of interweaving short stories about life in LA, pegged around Nina, a lonely real-estate broker (this means there are fun, literary glimpses of high-end real estate and insufferable rich people, which I enjoy). I also downloaded Sleeping Beauties by Stephen and Owen King and was surprised by how feminist and woke it was (I hate the word woke). They dedicated it to Sandra Bland! I recommend it but it does spin out of control in the last quarter.
Parenting Gif of the Week
Attempting to spray sunblock on my kids.
---
Newsletter #39
June 22nd, 2018
An Iced Coffee Problem & Tennis Lessons
What I Ate This Week
I have a slight iced coffee problem. Because I love it but the stuff in the cans / bottles is primo expensive. I've been wanting to try this Pioneer Woman iced coffee recipe as I know (I KNOW!) cold brew is easy to make. Friends, I continue to look at that recipe to psych myself up to try it and then I get to the cheesecloth part of the recipe and I sigh because I know I will never get cheesecloth. (Who has cheesecloth just lying around, waiting to be used to make affordable and delicious iced coffee? Answer: Handy moms and Pioneer Women, which I am not. I am a tired Suburban mom who has just enough energy to crack open a can of stupidly expensive iced coffee in the morning. I will have to just live with myself.)

We did have enough energy to make Greek chicken skewers on the grill (pre-skewed and pre-seasoned from Costco NO SHAME) which we served with Tzatziki sauce and rice. We did a taco Tuesday and homemade mac and cheese. We also do a baked salmon with jarred Teriyaki sauce that the kids like. Vegetables the kiddos seem to be tolerating include broccoli, peas, and cucumbers (a fruit, but I am classifying them as a vegetable because they're green). 
What I Wrote This Week
Because we have spent the past six years on the couch at night while the kids sleep, I signed us up for tennis lessons at the local municipal courts for Nat's birthday.
What I Read This Week
I love Stephen King and I have loved him since I was a teenager but I didn't enjoy the Bill Hodges Trilogy, which he's churned out in the past few years (they seemed route). Luckily, The Outsider is really terrific and makes me feel like he's back and in top Stephen King form. Warning: There's a dead kid in it which usually turns me off, well, any form of entertainment but it's manageable.
What I Watched This Week
We attempted Jumanji but Sam (6) just can't handle live-action movies. Homeboy even has a hard time with Paddington. However, we, the parents, liked it (once the kids went to bed). We're also watching Season 2 of the BBC drama  Marcella on Netflix (season 1 is also available if you need to catch up; here is a good review). Marcella is a detective on the hunt for a murder who also happens to suffer from bad black out problems (what she doesn't suffer from are bad bangs. I have middle-aged woman hair jealousy with her character).
Parenting GIF of the Week
Me, trying to get my kids to smile for photos and their reaction:

---
Newsletter #38
June 15th , 2018
Fresh Produce and I WILL NOT Chaperone
What I Ate This Week
I guess this is the point in the season / newsletter where I should be talking about all of the fresh produce we are eating from the Farmer's Market. But my kids are still eating apples from Costco. (Do I want to know why there are fresh apples available all year round? No. No I do not.) We may try to go strawberry picking this weekend if there are still any around (for you over-achievers, you can see a handy list of in-season produce here).
Let's see. We made these delicious marinated steak tips, we did a baked potato bar, ordered a pizza one night, had a picnic by the playground the other, and some teriyaki salmon (kid favorite!). I would be very happy if my children stopped eating for, like, a day.
What I Wrote This Week
I do not want to chaperone my children on any field trips. There, I said it.
What I Watched This Week
Wanted on Netflix seems promising (Australian, strong female leads, mad-cap feminist adventure, etc). The kids are still loving the Wyle E Coyote and Roadrunner cartoons (sample conversation from Sam: "Oh man! This is NOT going to work."). Coco is on Amazon (Sam is too scared to watch it so we haven't.
What I Read This Week
Do you need yet another novel from an unreliable female narrator?  (Gone Girl, The Girl on the Train, The Woman in the Window, to name JUST THREE I've read), I finished up Sometimes I Lie which was good but a bit too crazy, even for a book. I read this profile of Louise Penny and I fell in love with her and started the Chief Inspector Armand Gamache series. It's a bit … slow but I hope I fall in love with it the way most middle aged women have.
Parenting Gif of the Week
Me, "filing away" my children's art work
---
Newsletter #37
June 8th, 2018
'Masha and the Bear,' Lauren Groff's latest, and Skin Rashes
What I Ate This Week
I think the best part of the week is when I make something healthy and delicious for my family and my youngest refuses what we make and instead happily munches on the soggy, hours-old peanut butter and jelly sandwich unpacked from my son's lunch box. (That has happened twice this week.) Some food my daughter has refused but our older child happily eats: BBQ chicken (which we then made into burritos the next night), homemade pizza, and frozen cooked shrimp (just run under water and BOOM! Protein for dinner). Also, I purchased frozen Snickers ice cream bars which are the best dessert, hands down.
What I Wrote This Week
I do not write like Lauren Groff, (see What I Read This Week). But I did write about a gnarly rash I have on my leg as well as the beauty of summer Fridays.
What I Watched This Week
I am a firm believer in letting your kids watch TV. We really like Masha and the Bear (on Netflix) which is gentle yet fun. There is also some kind of Lego Building show that Sam really likes and Kit tolerates because, hey, it's TV. The original Scooby-Doos are also 
bearable. There are some good movies (for adults) streaming as well: I, Tonya is now free to watch on Amazon Prime and Hulu (it is very good).The Disaster Artist (which I thought was funny but apparently we all hate James Franco now?) is on Amazon Prime, as is Lady Bird
What I Read This Week
Lauren Groff (of Fates and Furies fame, which is excellent if you haven't read it already) is back with a new collection of short stories — Florida. She writes like this: "The lake goose-bumped; I might have been looking at the sensitive flesh of an enormous lizard. The swing in the oak made larger arcs over the water. The palmettos nodded, accepting the dance."
Parenting Gif of the Week
Attempting to cook dinner five days after I last went to the grocery store:
If you're not currently subscribed to The Tankini Files newsletters but would like to be, click here.
---
Newsletter #36
June 1st, 2018
Luther,' 'Bad Blood' and how straws became the enemy
What I Ate This Week
In terrible news I have reached the age where I can no longer tolerate red wine. It upsets my stomach, gives me a headache, makes it so I can't sleep. Is it sulfates? Tannins? It's something.  Of course, I could mitigate the symptoms by only having half a glass after work but once I open a bottle of red wine it speaks to me (and it says, "Drinkkkkk meeeee!"). So, I'm switching up my after-work aperitif to Pimms and seltzer. A millennial I work with swears by White Claw, which is a seltzer and alcohol. "What kind of alcohol," I asked? "Just….you know, alcohol," he answered. I'm in!
We're grilling a ton of vegetables now because, well, that's what Yuppies are supposed to do in the summer. If you want to get crazy (I mean, I'm already teetering on the edge withWhite Clawwwww!, which is how I say it in my head), throw some fish in some foil packets with vegetables. Easy clean up! Here's a handy how-to.

What I Wrote This Week
When did straws become so bad? And how guilty should I feel for using them? An investigation.
What I Watched This Week
Finished up Killing Eve (so good!) and started on the new season of the BBC drama Luther which is THE BEST and now on Netflix. (There are only four episodes in Season 4. It's such a good series the BBC was like, "We can go 3 years between seasons and then give people only 4 episodes when we return. They will watch it anyway without complaint!) This season has Luther stalking a serial killer who is killing people in London and eating them. I'm in!

What I Read This Week
John Carreyrou's Bad Blood: Secrets and Lies in a Silicon Valley Startup, is insane. It helps that the book's subject, Elizabeth Holmes, who was the CEO of the Silicon Valley blood-testing firm Theranos, is insane (she said that her technology could retrieve vital health information from a small drop of blood. Hint: It couldn't). I've never wished for the downfall of a blond woman more. Which I guess is how Republicans felt about Hillary Clinton.  ¯\_(ツ)_/¯
Life Hack of the Week
Did you know you are supposed to put dry shampoo on your head the night before in order for it to absorb in your head / hair and not in the morning? I did not. But now you do.
Parenting Gif of the Week
When my son told me someone in his kindergarten class put glue in his chair as a "trick" when he wasn't looking.
---
If you're not currently subscribed to The Tankini Files newsletters but would like to be, click here.
Newsletter #35
May 24th, 2018
Not Signing My Kids Up For Sports & Unbridled Joy for Pitas
What I Made This Week
Do the six of you who read this newsletter remember the time when I broke Teriyaki bowls WIDE OPEN (and by "wide open," I mean, realized they were something easy I could make?). I feel the same unbridled joy around pitas! Slice up some meatballs, throw some cucumber and rice in there, some pre-made Tzatziki sauce and BOOM. Deliciousness. In a moment of weakness, I also bought a bag mini bagels to serve for breakfast and the kids are pretty stoked to have all of those white, unrefined carbs in the house. Also, here is a photo of our current breakfast situation. Kit has a lot of FEELINGS about what she wants prepared for the first meal of the day.
What I Watched This Week
We finished up Barry on HBO, about a hit-man turned acting student in LA. I love Bill Hader, who does an excellent job with the material. It's very dark and weird but I like dark and weird but there are only so many medical dramas I can watch in a week.
What I Read This Week
I read and disliked The Wife Between Us by Greer Hendricks and Sarah Peckanen which was super implausible and silly. But I needed a thriller. If you have any thrillers you recommend, get at me.
What I Wrote This Week
I wrote about overcoming the whole Kids Sports Thing and being lazy on a rainy Saturday (there's always so much I feel like I need to do, like not sign up my kids for sports!).
Parenting Pic of the Week
When I sneak some vegetables into the kids food and they eat it without realizing.
---
---
Newsletter #34,
May 18th, 2018
Stealth Baby Showering & Mother's Day
What I Made This Week
I am so tired of the eternal, never-ending slog of making food for my children. So very tired. We've eaten a lot of watermelon, some flatbread pizza, chicken marsala, some baked halibut, and a few nights I've just put some cold cuts and cheese on a plate and called it a dinner.
Oh! And we're currently making popsicles. I make mine with orange juice and left over dregs of juice boxes in the fridge. But if I ever entered a dream fugue state, I would like to make these cool watermelon ones (but I never will). This slideshow is amazing.
What I Wrote this Week
I threw a baby shower and lived to write about it as well as how I spent my Mother's Day.
What I Watched This Week
Still obsessed with Killing Eve and Sandra Oh, falling out of love with The Handmaid's Tale (how much suffering are we to endure?). I've started watching The Rain on Netflix which is a terribly dubbed Danish show where the rain (the rain!!!!) carries a terrible virus and a bunch of hot teens are left in the aftermath. It's not great, but it's something. It's the cold cuts and cheese on a plate of entertainment. But it reminds me of Chubby Rain in Bowfinger and for that, it makes me appreciative.
What I Read This Week
I haven't read anything because I've been sucked down a Mueller / Cohen / Trump rabbit hole but Amateur Hour looks like a book I wish I would have written.
Parenting GIF of The Week
Me, when my 2-year-old tries, very earnestly, to talk to me but doesn't know real words yet.
---
Newsletter #33
What I Made This Week
I would very much like to make this cool Galaxy Soup (I honestly find pastina is some of the best pasta in the carb cannon) but we'll see. Doesn't it seem so much easier to just make them soup from a can? In the meantime, we've baked some salmon, made a pizza with premade pizza crust from TJ's, and I'm making a delicious breakfast beverage that consists of a  healthy splash of Trader Joe's Whole Chocolate Milk and Cold Brew. Also, I will say here that our vegetable rotation consists of carrots, peas and broccoli for the kids and broccoli slaw for the parents (I heart broccoli slaw).
What I Listened to
When I'm spending an hour or two folding and putting away laundry, I've been listening to "Where Should We Begin" podcast by marriage therapist Esther Perel (this makes my husband verryyy uncomfortable). Every episode is a different couples counseling session with real people (and Esther's sage, accented-advice). What I've learned from the many hours of listening (there's a lot of laundry in my life), is that couples get to the point where they need counseling because 1. They don't say thank you. 2. They stop having sex. So, there you go. (But do listen! It's pretty helpful.)
What I Watched This Week
The Handmaid's Tale! The Handmaid's Tale! The Handmaid's Tale! Season 2, now on Hulu. There is no way I could love it more than I do. Also, Killing Eve which is now on Amazon Prime. I never knew just how much I missed Sandra Oh I'm very thankful my husband watches feminist dramas with me at the end of the night. And I tell him that.
What I Read This Week
I read Meg Wolitzer's The Female Persuasion and whereas I love Meg Wolitzer (in a former life, I interviewed her three times and every time I was struck by how smart, intelligent and humble of a human she is), I didn't love the book. You can read a much better review of the book and of Wolitzer's past here.
Parenting Gif of the Week
---
Newsletter #32
What I Made This Week
Food articles that describe a meal but then also don't tell you the recipe make me want to Hulk Out. What do they take me for? Some kind of culinary genius? I can't follow a "recipe" that is just a bunch of guidance on how to "improvise in the kitchen." I NEED STEPS AND MEASUREMENTS.  I almost felt that way about this article about grain bowls. But then! At the bottom, there was a link to the recipe! Thanks NYTimes. That was a close one.
Let's see. This week, I sauteed some frozen shrimp and then added it to a bag of sauteed frozen Vegetable Fried Rice, we made a meatloaf, and did fancy baked potatoes ("fancy" for the soul reason that I bought sour cream).  
I also swear I'm going to make this egg, hash, and pancetta recipe this weekend for breakfast and make my husband love me. Or maybe I'll just think about it and make toast instead.
What I Watched This Week
I'm obsessed with the show Imposters which I never knew existed (airs on Bravo) but which is now on Netflix and so I now know about it and can watch it. It's so very good. We were going through a dry spell there for a bit so I'm glad it landed.
What I Read This Week
I haven't read anything because I've been too obsessed with Trump news but I have my eye on Tangerine by Christine Mangan.
What I Wrote This Week
I wrote about how we should still post wine memes on Facebook because sometimes we just need to make stupid jokes on social media. Bold.
Parenting Gif of the Week
Actual footage of me cleaning out the car.
---
Newsletter #31
What I Ate This Week
We took the kids to my childhood home to visit my mom and I ate like I was starving and slept like the dead. There's something about going back to your childhood home, right? Just knowing that someone else is in the position of authority is the ultimate tranquilizer while not having to cook is the ultimate appetite giver. That, or I can blame it on the antihistamines I started taking due to allergy season.
So! This week: We enjoyed salmon teriyaki bowls (this recipe is a stretch; i just put baked salmon over rice and broccoli and poured teriyaki sauce on the whole thing, like a champ), ham and macaroni and cheese, egg salad (from the hardboiled eggs from EaSter), and homemade pizza with a spicy beef topping. Just make a pizza like you normally would but saute some minced beef with a half a pack of taco seasoning and onions and throw it on half-way between baking. Nat then puts arugula on it and we seem like fancy and impressive people who don't eat our dinner in under 5 minutes, due to childhood demands.
What I would make if I didn't have children: This Vegetarian Carrot and Chickpea Tagine.

What I Wrote This Week
I have a doppelganger who is on the latest Survivor, according to my neighbor. Weird, right? I investigate.
What I Read this Week
Sisters by Lily Tuck was super fast and super enjoyable. The story of a marriage — and the dissolution of said marriage — is told in super short, pithy vignettes. Plus, look at this author photo. Is Lily Tuck a boss or what?


What I Watched This Week
The Jackson Brodie crime novels by Kate Atkinson are super sacred to me; I deeply, deeply love and revere the four books that follow this character and recommend them to everyone. So I was surprised to see there's a tv adaptation of the books, now available on Amazon Prime (apparently it originally aired in 2011; I'm very far behind). Sadly, the show is nowhere near as good as the books. So don't watch it. But if you promise me there is no way you will ever read the books (which you most definitely should!!) then you can.
Parenting Gif of the Week
Before I walk into daycare at 5 p.m.
---

Newsletter #30
Things That Have Happened
What We (and Friends) Ate This Week
Nat made his excellent beef stroganoff which the kids love (and so do we). I've been staring at this recipe forskirt steak and rice noodlesas though I'm actually going to get the energy to try and make it. A friend of Sam's came over and stuck a cheese stick in the toilet and then ate it (we didn't realize this had happened until days later). I went to a friend's house and she had delicious double chocolate chip cookies which came from Trader Joe's Truffle Brownie mix. Yes, you read that right. THE BROWNIE MIX CAN BE TURNED INTO COOKIES. Is there anything Trader Joe CAN'T DO?
What I Wrote This Week
I wrote about how my kid bit me (it hurt) and about I learned to love to bake with mixes.
What I Watched This Week
Wild Wild Country on Netflix. I dunno. Maybe I now want to join a cult? Kind of?

What I Read This Week
I've been reading so much by female authors so The Sarah Book by Scott McClanahan knocked my socks off; I hadn't realized I was missing testosterone-fueled words until I picked it up. It follows the death of a marriage so, you know, kind of depressing but I couldn't look away. I gobbled it up in three days.

Parenting GIF of the Week
Trying to explain to my kids how the Easter Bunny relates to Jesus.

At Gazet, we want to make it as easy as possible for anyone to become the editor of their own digital magazine. We're building a community of experts and enthusiasts who curate and publish media digests on a wide range of subjects.
As a fan of The Tankini Files, we hope you'll love Gazet, and invite you to join us as a Founding Editor. Check us out at Gazet.com, or email mark@gazet.com with any questions.
Gazet — Publish. Don't Post.
Newsletter #29: Snowday #2354,
Now with Nietzsche Quotes
On the second day of Spring. Schools and day care are closed. Despair. So, I figured I'd do some deep dives into some Nietzche. Maybe you would appreciate? "Whoever fights monsters should see to it that in the process he does not become a monster. And if you gaze long enough into an abyss, the abyss will gaze back into you." ― Friedrich Nietzsche
What I made this week
Meatball subs with frozen sub rolls I popped in the oven. Broccoli slaw. Mashed sweet potatoes. Grilled fish. Steamed broccoli. Cookies. 15 bottles of wine. There is no   "In loneliness, the lonely one eats himself; in a crowd, the many eat him. Now choose."
What I wrote this week
I went to the doctor. Probably am not going to die. Unless the snow days kill me.
What I Read This Week
I started on Beasts of Extraordinary Circumstances by Ruth Emmie Long (fantastic name) and am enjoying. This quote has nothing to do with it. "Books for all the world are always foul-smelling books: the smell of small people clings to them."
What I Watch This Week
High Maintenance on HBO GO, about a pot delivery guy in Manhattan. 4,000 episodes of Paw Patrol "To live is to suffer, to survive is to find some meaning in the suffering."
Parenting Gif of the Week
Snow day. In March.
These newsletters are sponsored by our friends at Gazet.
---
Newsletter #28: Daylight Savings
What I made this week
We made some dope pre-marinated chicken breasts from TJ's that you simply saute in a frying pan. They were delicious. However, Sam wouldn't touch because they had "salad" on them ("It's HERBS," I  silently screamed into the void). We made some stuffed raviolis, some fish tacos, and a box of mac and cheese to help lessen the blow of us not putting the kids to bed when we had a long postponed date night (it's so restorative to get out of bedtime, if just for one night; I highly recommend).
What I wrote this week
Having trouble getting your kids to sleep with the time change? Here are some tips on how to make their room so dark a meth head would love to call it home.
What I watched this week
There's a new BBC crime drama (my favorite!) now on Netflix called Collateral which we're trying to watch in between running up the stairs to yell at the kids about going to bed (I hate you, time change).
Parenting gif of the week
Daytime Savings Time has me like
What I read this week
I'm still reading The Great Alone by Kristin Hannah which is … fine …. but kind of reads like a YA novel (to me). I'm also the only person in America who didn't like Hannah's first book The Nightingale so I'm not really sure why I downloaded this one, other than it popped up in my Kindle as something I would like and I'm nothing if not a sucker for targeted marketing AND lazy. So, if you're looking for a YA novel about a teenager who moves to backwoods Alaska  in 1974 with her mother and increasingly unstable Vietnam Vet father, this book is for you!
At Gazet, we want to make it as easy as possible for anyone to become the editor of their own digital magazine. We're building a community of experts and enthusiasts who curate and publish media digests on a wide range of subjects.
As a fan of The Tankini Files, we hope you'll love Gazet, and invite you to join us as a Founding Editor. Check us out at Gazet.com, or email mark@gazet.com with any questions.
Gazet — Publish. Don't Post.
---
Newsletter # 27  Snow Storm, A Messy House & The Great Alone
What I Made This Week
I'm writing this the day before a snow day when I panicked and spent $250 at my boyfriend Trader Joe's, mainly on milk. I'm planning on making this pre-marinated pot roast from this recipe; sauteed some shrimp and serving it over this frozen risotto and asparagus; this chicken with broccoli slaw.
Also, if I ever had dinner parties, which I don't because my house is such a mess and I can't be trusted around open bottles of wine, I'd make little ice cream sandwiches from these cookies for dessert. I just made a few (with a dollop of chocolate syrup) and ate them over the sink while looking at my phone, having an impromptu dinner party with my Internet friends.
What I Read This Week
I just downloaded Kristin Hannah's The Great Alone. And a fan of the newsletter just sent me her book– Hugo and Rose — which I will dig into in between futility cleaning my house during said snow day.
What I Watched This Week
I'm finally strong enough in my parenting journey to watch The Room, which is on Amazon Prime and it was so good.
What I Wrote This Week
I wrote about how I'm cool with a messy house but now I feel like I'm stupid for writing it because I'm over my messy house and want to set it on fire.
Parenting gif of the Week
When we get the phone call that says school is closed…again.
---
Newsletter #26: Rotten Bananas & Falling Down the Online Skincare Rabbit Hole
Just a reminder that this newsletter is sponsored by my good friends at Gazet. Check out their neat platform for sharing content and stories you find interesting. Here are some good articles I read this week.
What I Made This Week
This weekend, I spotted a black banana in my fruit bowl which had been there much too long for a rotten banana to be anywhere, let alone on top of a counter. So I said to myself, "I shall make some banana muffins." So I went to The Google and I found a recipe that said, "Do you have a single rotten banana sitting on your counter?" And I quietly looked around and nodded. And it said, "Do you want to make muffins?" And I nodded again, slightly creeped out because how did this recipe know me so well? So I had no choice but to make the recipe which was very easy (no mixer needed) and makes 4 muffins from one rotten banana. Also on the rotation this week was this BBQ shredded chicken recipe (served with microwavable rice) which we used the second night in some quick and easy quesadillas; some steak on the grill with oven-roasted french fries (the frozen bagged variety have come a long way since we were kids. Science!). We're also deeply into peas these days (exciting times) and use this steamer in the microwave almost every night and they really do a bang up job of quickly steaming frozen (and non frozen) veggies.
What I watched this week
I started watching Seven Seconds on Netflix but stopped as I can't do a dead kids / suffering parents plot line. I then started watched Absentia on Amazon Prime and it's not good so I'm not sure why I'm writing about it? I haven't watched one bit of the Olympics because the commercials were so bad and onerous; it looks like I'm not the only one.
What I Read This Week
I Am, I Am, I Am: Seventeen Brushes with Death by Maggie O'Farrell, an Irish writer. It's a great hook: It's written in seventeen chapters, each a different, startling vignette about an event in her life in which she could have died. It's so good that at first I didn't realize it was a memoir.
Parenting Gif of the Week
When my kids touch my phone without my permission
What I wrote this Week
I went crazy, bought a bunch of serums for my face, my face then went crazy, so I went to the dermatologist, which is what I should have done in the first place. This is my story.
At Gazet, we want to make it as easy as possible for anyone to become the editor of their own digital magazine. We're building a community of experts and enthusiasts who curate and publish media digests on a wide range of subjects.
As a fan of The Tankini Files, we hope you'll love Gazet, and invite you to join us as a Founding Editor. Check us out at Gazet.com, or email mark@gazet.com with any questions.
Gazet — Publish. Don't Post.
---
Newsletter #25:  Shrimp, Hot Mom Tech, & Trampoline Park Barf
What I Made This Week
This fascinating newsletter has yet to break shrimp recipes wide open and that's because I have a dark secret — Nat doesn't like shrimp. And I feel like we should at least try to make dishes we can all eat (or, in the case of my children, not eat while complaining about it them). But one day,  tired of all of our options, I picked some up and felt like Nat could deal (he could). So, I made this delicious recipe which the kids gobbled up. I also made a beef stew we all hated, sliders the kids loved, some batches of steel-cut oatmeal, this tried-and true breaded fish recipe, and a very unpopular chicken and rice casserole that we fed to the dog. We're also eating clementines by the handful.
What I Watched This Week
I'm currently pretty obsessed with Fox's 9-1-1 which is utterly ridiculous and totally-implausible but features Connie Britton (great hair), Angela Bassett (great anger face), and Peter Krause from Six Feet Under (great ugly-crying).  And the new TNT mini-series The Alienist is now on Amazon Prime (for a fee).
What I Read This Week
I've been on a tear recently. I loved Problems by Jade Sharma but it was almost tooo edgy for my 38-year-old blood. But it did remind me of the writing that spoke to my 28-year-old blood (if that is still around, anywhere). The main character, Maya, has a little heroin, infidelity, employment and New York City problem that is painful to witness, yet Sharma is just funny enough to keep you reading when all you you really want to do is look away. I also finished Pachinko by Min Jin Lee which I can recommend to everyone because instead of explicit drug use and sex, it's just 400-plus (exceedingly readable!) pages that follows four generations of a poor Korean immigrant family.
Hot Mom Tech of the Week
I loved this When Did Marriage Become So Hard episode on the Hidden Brain podcast. In a brief interview with Eli Finkel, author of The All-Or-Nothing Marriage: How The Best Marriages Work, he talks about how marriages nowadays are akin to a heavily stock-loaded portfolio. His theory: We shouldn't  look to one person to fulfill so many of our emotional and psychological needs (ie: don't put all your eggs in one basket). Basically, people are happier when they've diversified their social portfolio and turn to different sorts of people for different sorts of emotional experiences. So, go grab a beer with your girlfriends, ladies!
Parenting Gif of the Week
When my children try to touch me with their grubby hands in the morning before work and I'm wearing the one clean outfit I own.
What I Wrote This Week
I went to a trampoline park full of barf.

At Gazet, we want to make it as easy as possible for anyone to become the editor of their own digital magazine. We're building a community of experts and enthusiasts who curate and publish media digests on a wide range of subjects.
As a fan of The Tankini Files, we hope you'll love Gazet, and invite you to join us as a Founding Editor. Check us out at Gazet.com, or email mark@gazet.com with any questions.
Gazet — Publish. Don't Post.
---
Newsletter #24
What I Read This Week
Oh man, you guys. Another dystopian feminist novel (my favorite!)! This time it's  The Red Clocks by Leni Zumas, which is told by the point of view by different women after abortion is once again illegal in the US, IVF is banned, and single women cannot adopt. It's so good, I loved every page, and have recommended it to everyone. Egad. Read it. Then talk to me about it. I want to read it again and again.
What I Wrote This Week
I wrote about what we don't talk about when we talk about the achievement gap. Hint: We parents have something to do with it.
What I Watched This Week
Masha and the Bear (Netflix), a whimsical Russian animated television series with terrible dubbing, is on repeat at our house. It follows a bear (with an excellent backstory, I think he won an Oscar at one point and was maybe in the circus?), a precocious little girl and their adventures in the Russian backcountry (or something…but it's definitely in Russia). Both kids love it. Also, the Olympics start tonight! NPR's Olympics Preview Special podcast will get you caught up on what you need to know.
What I Made This Week
We stopped by my mom's house over the weekend and she made Sloppy Joe's for the kids and I believe I was so impressed, I called them "inspired." (You know you're a tired mom when you think Croc Pot's Sloppy Joe's are considered inspired). Hmmm. What else? I roasted some cauliflower and served with white Gyro sauce and lemon juice (kid friendly!), we did some homemade pizza with Trader Joe's premade pizza crust and some baked salmon. I also got back on the steel-cut oats kick where I make them beforehand and put the cooked oats into the fridge to microwave in the morning for the kids. I'm an amazing parent.
Parenting Gif of the Week:
Me everyday this winter, basically.
Newsletter #23: Parenting Does Get Easier.
What I Did in Tech This Week
I've fallen down a skincare hole this week. Did you know there are multiple online dermatologists where you can take selfies of your face, send them in with a detailed list of your problem areas, and they (apparently, "dermatologists")  will send you curated, medicated skin care? The two biggest one's I've found are Curology and Dermacare.  There's also www.yoderm.com, which will just straight-up send you Retin-A script. Seems like it would be worth the cost just to keep you from having to make a dermatologist appointment and watching them wince over the size of your pores while you lie about using sunscreen. Also on the technology front, I may try out the Freedom app which blocks attention-sucking websites from your phone and computer. Hahahaha. No I won't. I just broke out into hives thinking about it.
What I Ate This Week
Flank steak, mashed potatoes, pork loin, and rice with cheese and peas (the kid's favorite). Nat also bought a huge (huge!) bin of cheese balls from Costco we're currently hiding in the basement.  We're taking the bin to an extended family getaway (our plan: put the kids in a room, open up the bin, close the door and let them kids go at it). This plan should give us about 30 minutes of peace.
What I Read This Week
I'm reading Homegoing by Yaa Gyasi and it's heartbreaking and wonderful. I also loved this Vows follow-up in the Times in their State of the Unions series (it's where they do a follow-up many decades later to a marriage they featured). This quote about marriage is perfect: "We have things we don't see eye to eye on but there's never been a doubt that overall, we are a team. I think marriage is constantly choosing to be a team. It's a conscious decision — this is a priority. This is home base."
Parenting Gif of the Week
Actual footage of Mitch McConnell at the State of the Union
What I Wrote this Week
Parenting does get easier. It really does.
What I Watched This Week
We watched The End of the Fucking World on Netflix — it follows two British outsider teenagers (one of whom thinks he's a psychopath) and their rapidly-dissolving road trip. Many are praising it to be a superb dark comedy but I'm not sure the praise would be so robust if they didn't have British accents.
Newsletter #23: Parenting: Fake It 'Til You Make It.
What I Ate This Week
This week, Sam invited a new friend over for a playdate. Because I've figured out the best way to break the ice on new playdates is to give them each a snack, I cut up a banana and put peanut butter on the slices. And the kid goes, "Why are you cutting it like that? You should make a banana sandwich." Friends, I've been cutting a banana into little slices and slathering peanut butter onto each coin-sized piece for years LIKE A FOOL. How could I have been so stupid? I was so moved by the experience, I posted the above InstaQuote on my IG.
So, we've been eating a lot of banana sandwiches. I've also been throwing nuts at the kids' mouths at dinner because nuts are healthy but the kids won't eat them from their plate. I never once make it into their mouths but they find it hilarious and will always pick up what bounced off their faces and eat it.
Remember: Kids are weird, but we can be weirder.
What I Read This Week
I read this stupid book —Grist Mill Road— and I hated it. Good premise, gripping first few chapters, but then it fell apart. I was so angry, I continued to hate-read it. Luckily, I read this lovely piece on parenting by Adam Gopnick in the New Yorker and it made up for my Bad Book Experience. This quote in particular made me tear up a little, "Nothing works in child rearing because everything works. If kids are happy and absorbed, in the flow, that's all we can ask of them, in Berlin or in Brooklyn. Nothing works in the long run, but the mistake lies in thinking that the long run is the one that counts."
Parenting Gif of The Week
Me, attempting to wipe my kids' faces
What I Watched This Week
Four seasons (the entire series) of Halt and Catch Fire are now on Netflix and it is excellent. I wonder why it never took off — I'm guessing it's the title— but it's a pitch-perfect period drama about the rise of personal computing the 1980s and early 1990s — with a great soundtrack and performances.
What I Wrote This Week
I wrote about how sometimes I pretend I'm Mandy Moore's character from This is Us. Weird.
Newsletter #20
Get Your Christmas Hats On & The Year's Best Books
What I Made This Week
Nat made this shepherd's pie (with only a little bit of lamb, because we felt guilty; the rest with ground beef) and Sam loved it. Kit hated it (girlfriend has something against mashed potatoes which is really weird)  They have also stopped eating oatmeal so we're back on cereal and it's breaking my heart. The rest of the week we made salmon (so boring) and homemade pizza (delish).
What I Wrote This Week
Getting ready for Christmas whether I like it or not. Parenting GIF of the Week
Parenting GIF of the Week
When I think about all of the looming Christmas deadlines.

What I Read This Week
It's the most wonderful time of the year –it's time of  best of lists! Here is what the NY Times thinks are the best books of the year. I have not read any of them. ¯\_(ツ)_/¯. My favorites of the year include: How to Murder Your Life by Cat Marnell (reminded me of my youth / working in media); The Stars are Fire by Anita Shreve; Anything is Possible by Elizabeth Strout (read her other books before you read this one); My Absolute Darling by Gabriel Tallent; and  Elenor Oliphant is Completely Fine by Gail Honeyman.
What I Watched This Week
The Marvelous Mrs. Maisel (Amazon Prime Original) is a joy to watch. A joy.  It follows a young mother (Mrs. Maisel) as she navigates her life on the tony UWS after her husband leaves her and she embarks upon a stand up comedy care in the 1950's. Come for the feminist comedy, stay for the slamming outfits.